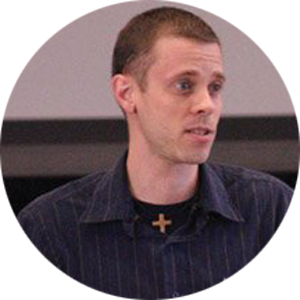 Dr. John R. Wood
"What you do when you feel like you can do no more is how you carry the cross. That is the ultimate war within. The body cries for mercy but the heart says to push on."
Dr. John R. Wood is a passionate speaker and author who wrote the book Ordinary Lives, Extraordinary Mission: 5 Steps to Winning the War Within. John works by day as a mobile eye doctor who travels to over forty different nursing homes and developmental disability facilities to provide eye care through his business Mobile Eyes, LLC, which he founded in 2007.
As an all-star athlete in high school and college, John knows the hard work and dedication it takes to obtain a certain level of greatness. Thus, his knowledge of the faith and his ability to teach has allowed him to encourage others to strive for their own level of Catholic greatness: sainthood. As an active member of his parish, John teaches and speaks on a variety of topics, including the Theology of the Body, the Saints, the Church, Mary, the Great Adventure Bible Study, and his own educational program for children and adults: Saints in the Making (SIMU).
Dr. Wood also discusses his passion for the faith on his local Catholic radio station, "Annunciation Radio."
John and his wife, Kristin, currently reside in Northwest Ohio with their four children.
Interested in bringing this author to your city?
Popular Products by Dr. John R. Wood