Email Invitations
Recipient(s) Info
If entering more than one email address, separate each address with a comma.
You can also choose your own contacts from Google or Microsoft Outlook. Don't worry, only your selected contacts will be invited.
Other Ways to Share
Feb 28, 2020
Little Notes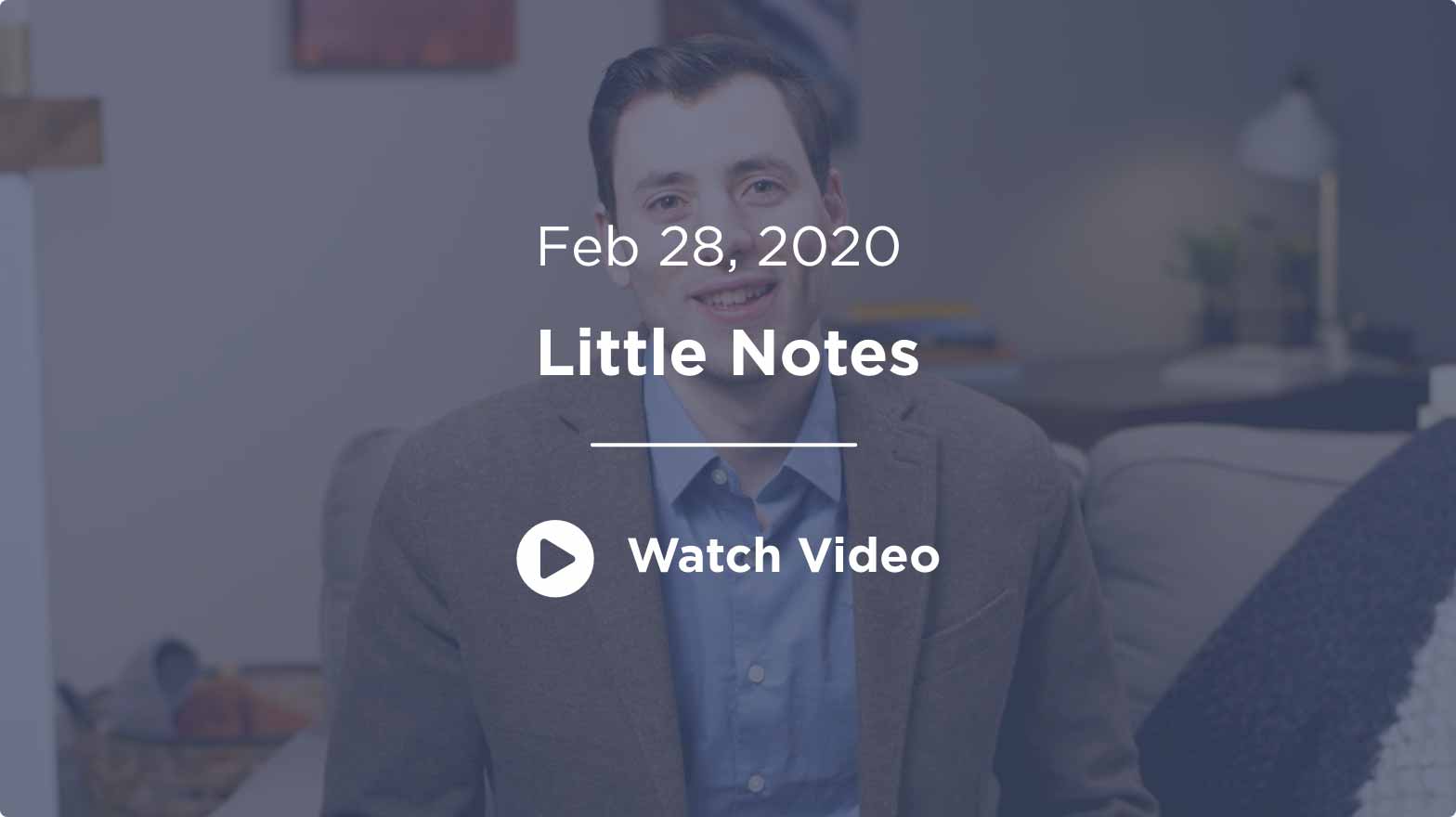 This year's BEST LENT EVER content is drawn from Matthew Kelly's new book: Rediscover the Saints.
Order a Copy Today
The More the Merrier!
Who do you know who needs some hope? Who do you know who needs some inspiration? Who do know who needs to see the amazing possibilities that God has in store for them? Invite them to have their BEST LENT EVER!
Invite Your Friends
Transcript
BEST LENT EVER is made possible by the generous support of The Ambassador's Club.
Right from the start of life, I've had somebody to do life with. I've got my twin sister, Megan. And there are a lot of great things about being a twin, and one of them is actually sharing a birthday. It's awesome to do that with somebody else. But there are actually a lot of reasons why it's great to specifically be Megan's twin, and one of them is that all my life she's written me these little handwritten notes. And I don't remember when she started doing this for me, but I remember when I first noticed it. I was in fourth or fifth grade, and I was sick for like a week. And when you're in fourth and fifth grade and you're sick for a week, you totally feel like you missed something at school and your friends aren't going to be friends anymore when you go back. And so I was feeling a little insecure. And so I get back to school, and I have six or seven notes from Megan. Some of them are one liners of a joke that she heard, and others—she was clearly bored in class, and she just wanted to let me know what was going in the week. And when she gave them to me, she just wanted me to know that she missed me and didn't want me to feel left out. And even though I was so young, I just thought, "Wow. What a sweet thing to do."
And so she's been doing this throughout my whole life. In great moments, I've gotten a little note of congratulations. In difficult moments, I've got a little note of encouragement. And so I've got this box at home of all of the letters that my sister has written me over the years.
So sometimes my life is going really great, and sometimes my life is going not so great. And sometimes, in those moments when life is not going so great, I'll take out this box of all the letters that my sister has given me, and I'll look at it and I'll read through it, and there's never the answer that I'm looking for in the box. But what's in the box is a reminder that I'm loved. And sometimes when I feel alone or when I feel lost or I feel uncertain and I wonder where God is and everything, it makes all the difference in the world to look at that box and just have a reminder that God has never abandoned me my whole life and that he's not going to abandon me now. And so as I look at the course of my life and I look at this little thing that my sister has done, I'm just amazed at what God can do with a little thing done out of love.
Transcript (Español)
LA MEJOR CUARESMA es posible gracias al generoso apoyo del Club de Embajadores.
Desde que nací, he tenido a alguien con quien construir mi vida. Mi hermana gemela, Megan. Tener un gemelo trae consigo muchas cosas grandiosas, y una de ellas es compartir el mismo cumpleaños. Es fantástico el poder compartirlo con otra persona. Pero en realidad hay muchas razones especificas por las que es genial ser la gemela de Megan, y una de ellas es que toda mi vida ella me ha escrito con su puño y letra estas notitas. Yo no recuerdo cuando empezó a hacer esto por mí, pero recuerdo cuando lo noté por primera vez. Yo estaba en cuarto o quinto grado, y estuve enferma como por una semana. Y cuando estás en cuarto o quinto grado y estás enferma por una semana, tu sientes que te has perdido de algo en la escuela y que tus amigos ya no van a ser tus amigos cuando regreses. Así que me sentía un poco insegura. Regreso a la escuela, y tengo seis o siete notas de Megan. Algunas de ellas son chistes que ella escuchó, y en otras —ella estaba claramente aburrida en clase— ella me contaba lo que estaba pasando en la semana. Y cuando me las dio, ella sólo quería que supiera que me había extrañado y que no quería que me sintiera excluida. Y aunque yo era una niña pequeña, pensé, «Guau. Qué bueno lo que ha hecho».
Ella ha estado haciendo eso a lo largo de toda mi vida. Durante mis mejores momentos, he recibido notitas de felicitaciones. En momentos difíciles, recibo notitas de aliento. Así que en mi casa tengo una caja con todas las cartas que mi hermana me ha escrito a lo largo de los años.
A veces mi vida va muy bien, y a veces mi vida no va tan bien. Y a veces, en esos momentos en que la vida no va tan bien, sacó esta caja con todas las cartas que mi hermana me ha dado, las miro y las leo, y en la caja nunca encuentro la respuesta que estoy buscando. Pero lo que tiene la caja es un recordatorio de que soy amada. Y a veces cuando me siento sola o cuando me siento perdida o siento incertidumbre y me pregunto dónde está Dios y mucho más, para mi marca toda la diferencia en el mundo ver esa caja y simplemente tener un recordatorio de que Dios nunca me ha abandonado en toda mi vida y que él no va a abandonarme ahora. Así que cuando veo mi vida y veo ese pequeño acto que mi hermana ha hecho, me asombra lo mucho que Dios puede hacer a través de las pequeñas cosas hechas con amor.