Explore this Event
The Game Changer You've Been Looking For
Reach your full potential
These 4 simple habits will help you become the person God created you to be.
Create a personal life plan
It's easier than you think to apply the 4 habits to your everyday life.
Develop a vibrant spiritual life
Everything you desire will flow from a dynamic relationship with God.
"The things we do repeatedly determine our character and our destiny."
Matthew Kelly
Incredible Speakers & Musicians
We have passionate speakers and talented singer-songwriters who are dedicated to bringing this life-changing event to as many parishes as possible. Check out our dynamic duos.
About Dr. Allen Hunt Dr. Allen Hunt is a nationally known speaker, bestselling author, and also the presenter for Dynamic Catholic's Passion & Purpose for Marriage event.

About George Lower Hear live music from award-winning singer-songwriter George Lower. He has more than 20 years experience leading worship in Catholic parishes.
About Dominick Albano Dominick Albano is an author, a speaker, co-founder of Arise Missions, and one of Dynamic Catholic's content leads.

About Paul Vogrinc Hear live music from Paul Vogrinc, a singer-songwriter and speaker who has led worship for Arise Missions and Steubenville Young Adult Conferences.
About Jonathan Fanning Jonathan Fanning has been coaching leaders for over 15 years. He is an author and has been voted best speaker at multiple TED conferences.

About Kevin Heider Hear live music from Kevin Heider, a singer-songwriter from Dayton, Ohio, and a 2008 winner of Gibson's The Way I Am Contest on MusicNation.com.
"You have to go! This event is so inspiring. It will really light a fire in your heart."
What's Included with My Ticket?
Tickets $25 Each
Includes Dynamic Catholic resources valued over $30!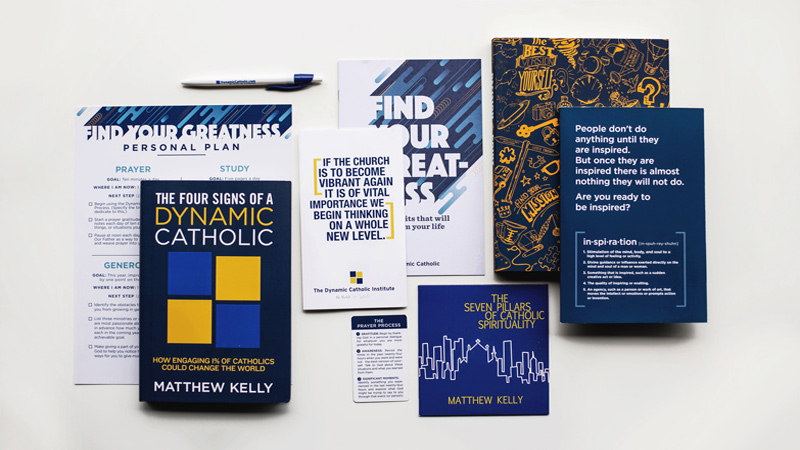 Tickets $25 Each
Includes Dynamic Catholic resources valued over $30!
Every person receives a free event bag with the following items:
The Four Signs of a Dynamic Catholic *
Inspirational journal
Dynamic Catholic pen
GET TICKETS
*The title of this complimentary book could vary depending on what the speaker chooses to focus on at the event. On occasion, the speaker may instead choose to include another book to highlight a specific topic.
Find Your Greatness
Schedule
Past Events
Past Events
2018
January 20, 2018: Scottsdale, AZ
January 27, 2018: Dunedin, FL
2017
January 20, 2017: Lenexa, KS
January 28, 2017: Tampa, FL
February 25, 2017: Macomb Township, MI
March 4, 2017: Marion, IL
May 20, 2017: Union City, CA

May 20, 2017: Boston, MA
October 14, 2017: Dayton, OH
October 28, 2017: Cumberland, RI
October 29, 2017: Keene, NH
November 4, 2017: San Angelo, TX
November 12, 2017: Wichita, KS
November 17, 2017: Westfield, NJ - - SOLD OUT
November 18, 2017: Aliquippa, PA
December 2, 2017: Richardson, TX

2016

March 12, 2016: Brookville, IN
April 30, 2016: Surrey, BC
October 1, 2016: Savannah, GA
November 18, 2016: Houston, TX
November 20, 2016: Weatherford, TX

2015

January 24, 2015: Cincinnati, OH
March 21, 2015: Harrison, OH
November 21, 2015: Dardenne Prairie, MO

2014

November 22, 2014: Cincinnati, OH
Interested in hosting a Find Your Greatness event at your parish?
Host an Event