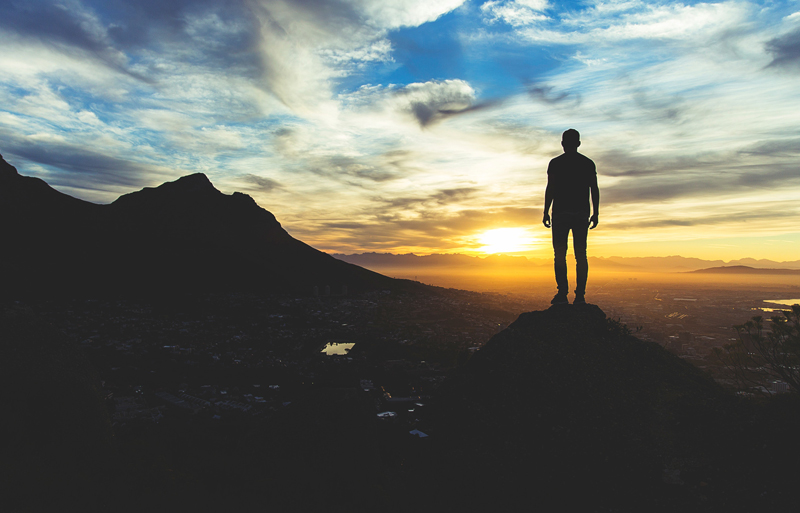 New year, new you!
Until it's mid-January and you realize that training for a 10K wasn't as exciting as you thought it would be. In fact, running for more than twenty minutes is downright torture, if you ask me.
It's become a common phenomenon to set resolutions for the New Year; to view January 1 as a fresh start, a new leaf.
Personally, I love beginnings. A new season, year, month, week . . . sponge (it's so exciting when you get to wash dishes with one that is bright yellow instead of slightly brown).
I love new beginnings, as most people do, because of the hope they inspire. Things don't have to stay the way they were; there is a time for change, an opportunity for growth, and endless possibilities. And the biggest, brightest possibility is the change you can make toward becoming the best-version-of-yourself.
Often, the challenge is that we may have every intention of seizing these fresh starts, but soon after, we drop the ball in one way or another. We set goals and fail to accomplish them, maybe fail to even come close.
For this reason, it's pretty easy to develop a healthy skepticism toward New Year's resolutions (at least if you're like me and prone to cynicism).
You may have been let down one too many times to partake in this annual ritual, and I certainly hesitated before writing down 2019 goals, but I think New Year's resolutions can "work." There are things you can do to help you along the way such as . . .
setting goals that are realistic for you, e.g., eating one serving of veggies per day if right now you're not eating any.
setting goals that are more or less enjoyable, e.g., if you hate running, don't force yourself to be a runner—try a different type of exercise! There's a whole wide world out there of ways you can stay active: pilates, yoga, swimming, kickboxing . . .
setting goals that are actionable, e.g., I will exercise two times per week, instead of I will get into shape.
Additionally, it is important to stay inspired. Inspiration can play a large role in the way we lead our lives, especially when it comes to doing things that are challenging.
"People don't do anything until they're inspired, but once they're inspired, there is almost nothing they can't do."
To help you keep the inspiration going in 2019, I've pulled together a list of some beautiful, inspirational quotes. I tried to find them a bit off the beaten path, so hopefully you haven't heard them a million times before. Read them, read them again, and maybe even write your favorite one down and place it somewhere you can see it often.
The more we are regularly flooded with inspiration, the more we will find ourselves willing to be pushed outside of our comfort zones to accomplish great things (even if that great thing is eating a serving of green beans tonight).
Here are twenty-five inspirational quotes to keep you motivated as you work toward your goals for the coming year. And remember, our lives change when our habits change.
---
"Don't ever be afraid of things. It's such a dreadful slavery. Let's be daring and adventurous and expectant. Let's dance to meet life and all it can bring to us, even if it brings scads of trouble and typhoid and twins!"
"I found it is the small, everyday deeds of ordinary folk that keep the darkness at bay . . . small acts of kindness and love."
"A dead thing can go with the stream, but only a living thing can go against it."
"We are what we believe we are."
"We've all got both light and dark inside of us. What matters is the part we choose to act on. That's who we really are."
"The future starts today, not tomorrow."
"Perhaps I am stronger than I think."
"You have been chosen. Therefore use such strength and heart and wits as you have."
"Accepting oneself does not preclude an attempt to become better."
"Let us come alive to the splendor that is all around us and see the beauty in ordinary things."
"Cheers to a new year and another chance for us to get it right."
"It always seems impossible until it's done."
"Life is an opportunity, benefit from it. Life is beauty, admire it. Life is a dream, realize it."
"The way get started is to quit talking and begin doing."
"Security is mostly a superstition. Life is either a daring adventure or nothing."
"It is time to dare and to endure."
"I figure life's a gift, and I don't intend on wasting it."
"Not all that is gold glitters, not all who wander are lost."
"All we have to decide is what to do with the time that is given to us."
"Even miracles take a little time."
When life gives you lemons give them back and tell them you want coffee.
"You have brains in your head. You have feet in your shoes. You can steer yourself any direction you choose. You're on your own. And you know what you know. And YOU are the one who'll decide where to go."
"Press forward, and fear nothing."
---
It is a new year, and we are given a new day every twenty-four hours—pretty cool, huh? New beginnings are provided continually; therefore, let us not grow weary or give up on our resolutions simply because we feel tired or because we already dropped the ball.
The world needs you to be fully alive and inspired to the brim. Take a few minutes to look over those New Year's resolutions again, and remind yourself why you set them in the first place. Change is healthy, necessary, and always possible.
Here's to a year full of beauty, wonder, and growth ahead.
Life is choices. What choices will you make this year?