You've been searching, perhaps for a while, and you have finally found a job posting that excites you. So now what? Quickly pull together a résumé, fill out the application, and hope for the best?
No. Finding meaningful work is far too important. One of the best things in life is the chance to work hard at something that is actually worth doing. We thrive when we find work that we are passionate about, work that is meaningful and aligns with our talents and abilities. Your résumé is not simply a summary of your work experience and skills. It is your tool to open the door to meaningful work.
Share your talents, abilities, and accomplishments confidently.
The following principles will not only help you build a powerful résumé that communicates your passion and skills and helps you stand out from other candidates, but also can bring you one step closer to meaningful work.
Know Yourself
The first step is self-knowledge. You cannot clearly communicate your skills and abilities, or hope to convince a hiring manager to interview you, if you do not know yourself well. Do you know what you are passionate about, what your unique talents and abilities are, and what God is calling you to do? Get clear about where you have you been, where are you now, and where you want to go. Then communicate that in your résumé. Introduce yourself with clarity, simplicity, and confidence. Detail the skills, abilities, and experience that qualify you for the position.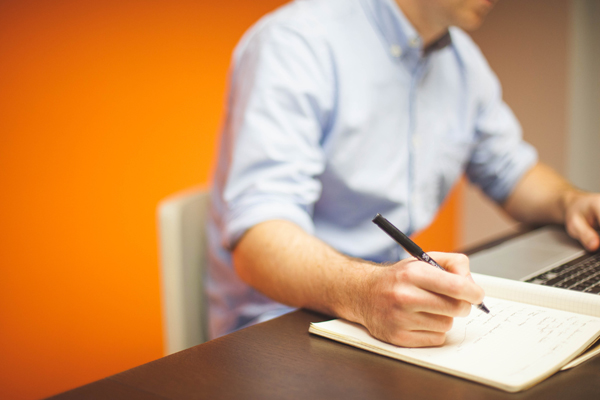 My husband, for example, was a competitive bobsledder who decided to become a theology teacher. Athletics and his military experience are not necessarily the typical career path for a teacher. In his résumé, he had to demonstrate how he had built skills that would be valuable in a teacher's day-to-day work. He didn't just say he competed in bobsled and it was great or he had some fast runs; he wrote about transferrable skills like attention to detail, accountability, and a commitment to excellence.
Know the Job
The days of sending out mass résumés are over. I can easily tell when I am looking at a résumé that an applicant has sent to twenty other organizations—and it's not impressive. If you want meaningful work, you have to do your homework. Organizations want people who are passionate about their mission and dedicated to their work. You need to know the organization, and especially the details of the job you are applying for. Demonstrate that knowledge in your résumé. Include skills and abilities you have that are highlighted in the job description. Point out shared values and characteristics upheld by the organization you are applying to.
Demonstrate the value of your experience and your unique talents and abilities.
Does the job require familiarity with certain programs or systems? Excel? Salesforce? HTML? Photoshop? SASS? What qualifications and skills are listed? Writing abilities? Customer service experience? Persuasive speaking skills? Management experience? Coachability? Attention to detail? Team player? Problem-solving? If you have them, talk about them in your résumé.
Be Honest
Share your talents, abilities, and accomplishments confidently. Don't be too modest, and don't embellish it. Being straightforward, clear, and honest about why you are a good fit for the organization is not bragging. This is your chance to make a strong first impression. You won't get an interview if you don't demonstrate why you are an excellent fit, and you won't get past the interview if you can't support everything you say.
If you received a non-academic award, share it. If you have demonstrated great problem-solving skills in a position, great. Put it on the résumé, and be prepared to share examples in an interview. Don't put something on your résumé just because the organization is looking for it if you don't actually have that skill or experience.
Include Details
A résumé typically includes a summary of your work experience, but don't stop after providing obvious information like position, employer, dates, and locations. Your duties and developed skills are particularly important. Share the details of what you did, what you specialized in, and any skills you developed. Also, remember what skills the employer is looking for. If you practiced those skills in a position, talk about it. Demonstrate the value of your experience and your unique talents and abilities.
You can share in greater depth what you can bring to the team, what you know about the organization, and why you are passionate about working there.
If you were a graphic designer somewhere, don't just list the job title. Tell me what programs you are competent in (Photoshop, Illustrator, etc.). Tell me what kind of projects you worked on (was it primarily print pieces like posters and flyers, or do you have experience crafting good UX in email and on web pages?). And tell me if you have any particular specializations (mobile application, iconography, typography and calligraphy, user interface animation, etc.).
Keep It Clean and Simple
Including details doesn't mean you get to write a novel. Your résumé needs to be simple, concise, and clean. Get to the point, and share only the most important details. Be intentional with your word choice. Use strong, descriptive words to demonstrate your abilities.
Make sure formatting is consistent. It doesn't have to be pretty or have images as long as it is clean. (If you're applying for a design job, however, you may want to use the opportunity to demonstrate your skills). There are many resources with visually appealing templates. These are fine to use, but be strategic, and make sure your content is just as good. Keep it professional with basic, legible font types. And, finally, take the time to edit your résumé. Run through it multiple times. Typos and grammatical errors are not acceptable.
Send a Cover Letter
A cover letter allows you to more explicitly connect your skills and experience to the job you are applying for. You can share in greater depth what you can bring to the team, what you know about the organization, and why you are passionate about working there. Be intentional, and take the time to craft a cover letter tailored to the position you are applying for.
Be Structured
Before you get started, decide which kind of résumé you are going to build. There are three standard types of résumés: chronological, functional, and combination.
A chronological résumé simply lists out a work history (often used when seeking a similar position or applying for an entry-level position).
A functional résumé focuses more on your skills (often used by people who have a gap in their employment history, are looking to change careers, or whose past positions do not directly relate to the job).
A combination résumé uses both approaches, often listing skills and abilities first, then a chronological work history (useful when making a career change or for experts in their field who want to highlight skills for a specific position).
Use the format that makes the most sense based on your experience and the job you are applying for.
The best résumé ever is never done. It changes and adapts to each and every position your apply for. It takes time and effort, but it is a worthy investment in to find work worth doing.
PS. Want to do what you love and impact millions? Check out Dynamic Catholic's open jobs!