Hollywood, FL Event
November 16, 2018
Find Your Greatness
Great habits create great lives. Are your habits helping you become the-best-version-of-yourself? At the Find Your Greatness Event learn the habits for a great life!
About the Event
Our lives change when our habits change. Based on Matthew Kelly's book The Four Signs of a Dynamic Catholic, Find Your Greatness will introduce you to four simple ways to reach your full potential. This half-day event features live music and includes a free bag of Dynamic Catholic resources for every attendee.
Event Information
Location
Little Flower Catholic Church
1805 Pierce Street
Hollywood, FL 33020
Doors open an hour before the event. We recommend you arrive at least a half hour before the start of the event to collect your event materials and find a seat. For a more prayerful experience for everyone, please silence your cell phone when the event starts and refrain from taking photos and videos. This event is not recommended for children under ten.
What's Included With Your Ticket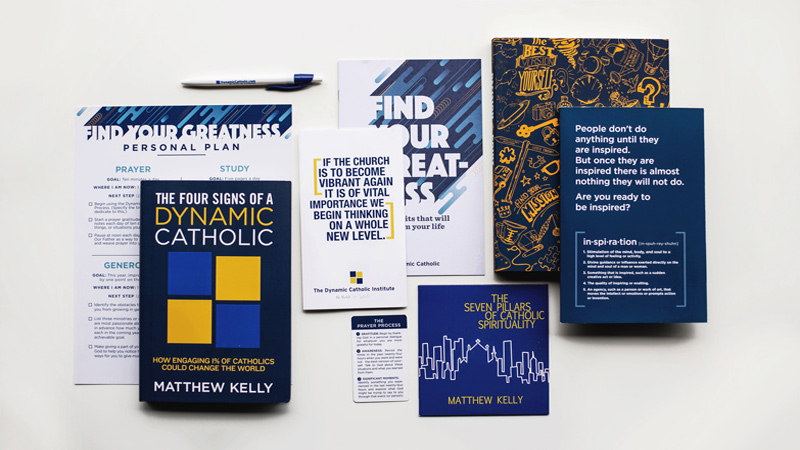 Every person receives a free event bag with the following items:
The Four Signs of a Dynamic Catholic *
Inspirational journal
Dynamic Catholic pen
GET TICKETS
*The title of this complimentary book could vary depending on what the speaker chooses to focus on at the event. On occasion, the speaker may instead choose to include another book to highlight a specific topic.
---
Incredible Speaker & Musician
Dominick Albano
Dominick Albano is an author, a speaker, co-founder of Arise Missions, and one of Dynamic Catholic's content leads.
Nick De La Torre
Nick is the lead singer and songwriter for the band "Of The Tower." He and his beautiful wife, Elena, are married with two daughters, Lucia Noelle & Cecilia Rose. Nick loves music, food, craft beers and the Catechism of the Catholic Church.
---