Jacksonville, FL Event
January 26, 2019
Find Your Greatness
Great habits create great lives. Are your habits helping you become the-best-version-of-yourself? At the Find Your Greatness Event learn the habits for a great life!
About the Event
Our lives change when our habits change. Based on Matthew Kelly's book The Four Signs of a Dynamic Catholic, Find Your Greatness will introduce you to four simple ways to reach your full potential. This half-day event features live music and includes a free bag of Dynamic Catholic resources for every attendee.
Event Information
Location
Assumption Catholic Church
2403 Atlantic Blvd
Jacksonville, FL 32207
Doors open an hour before the event. We recommend you arrive at least a half hour before the start of the event to collect your event materials and find a seat. For a more prayerful experience for everyone, please silence your cell phone when the event starts and refrain from taking photos and videos. This event is not recommended for children under ten.
What's Included With Your Ticket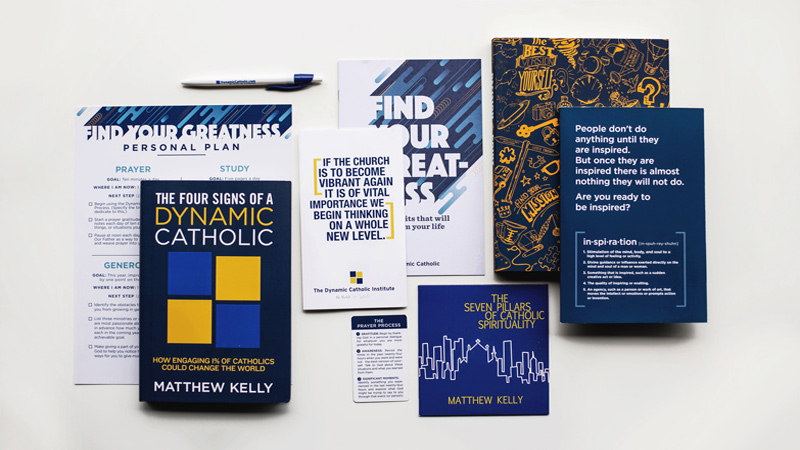 Every person receives a free event bag with the following items:
The Four Signs of a Dynamic Catholic *
Inspirational journal
Dynamic Catholic pen
GET TICKETS
*The title of this complimentary book could vary depending on what the speaker chooses to focus on at the event. On occasion, the speaker may instead choose to include another book to highlight a specific topic.
---
Incredible Speaker & Musician
Dr. Allen Hunt
Dr. Allen Hunt is a nationally known speaker and bestselling Catholic author. For more than 20 years he has been helping couples develop, nurture, and grow dynamic marriages.
George Lower
Hear live music from George Lower, an award-winning singer-songwriter with more than 20 years experience leading worship in Catholic parishes.
---